Supplying locally produced Ag-Lime to the Wide Bay since 1990.
Do you need Ag-Lime spread on your soil?
Along with providing the best quality Ag-Lime products, we also offer spreading services, to make applying your Ag-Lime even easier.
We have a quality, computer-controlled spreader, which has variable flow rates, allowing us to tailor the spreading to any soil. We take into account many factors, including soil acidity, to achieve the perfect balance.
Get in touch with us to talk about our spreading services.
Maximum Truck Load and Spreading Area
Our maximum load size is 7 tonnes in the Truck and 12 tonnes in the trailer, giving a total load of 19 tonnes.
Marule Lime uses a MAN 4WD truck with a spinner spreader mounted on the back. The spreader is computer controlled. This means that the rate of application can be easily varied throughout the area to be covered. The spreading rate is related to ground speed. This is regulated via the computer system. The computer can be adjusted in 10kg increments.
Marule Lime uses a self-unloading trailer, avoiding the need to drop and reload ag-lime unnecessarily. The system is comprised of a bin with 2 conveyor systems that empty the lime from the trailer into the back of the spreader.
The truck and trailer both have the ability to dump the load or part load if required.
The maximum spread of the product is 8 metres wide. We can use a modification to the back of the spinners which will stop the lime being spread in the middle and will then only be spread to each side. This can be used in orchard applications.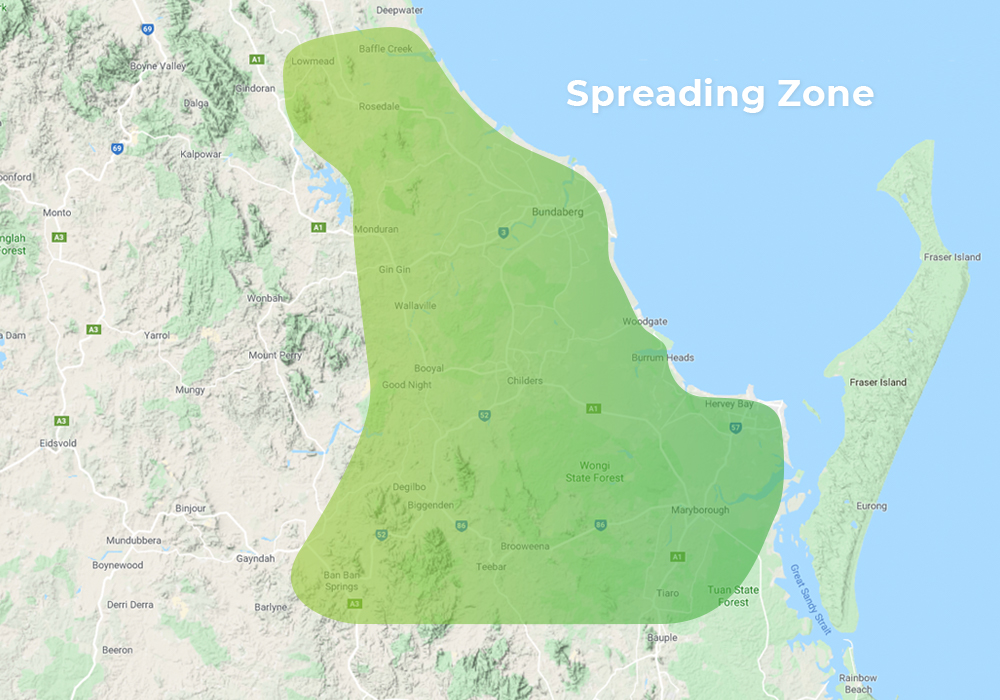 Supply & Spreading Area
We supply and spread Ag-Lime in and around our business zone. Please check this map to see if your property is within the listed area.
For information regarding supplying outside this area or backloads, please contact us.
If you're looking for quality Ag-Lime products, get in touch with us to see how we can help.